Concrete Services in Alpharetta, Marietta and nearby in Georgia
Expert solutions for driveways, pool decks, sidewalks, and more in Greater Atlanta
Do you want to repave your driveway? How about add a new sidewalk or patio to your home? If so, Georgia Pride Remodeling are the local concrete experts you need. We provide a variety of concrete services to homeowners in Greater Atlanta, and we can help you find the perfect addition to your property.
If you have any concrete repair or construction needs, call us today at 1-855-569-3867 or click below to get started with a free estimate! We offer all our services in Atlanta, Marietta, Alpharetta and throughout the nearby areas.
We provide complete concrete services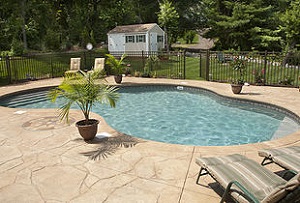 Our concrete services will provide the perfect finishing touch for your home.
No matter what needs you have for your home, our experts can help. Our concrete services include:
Driveway paving: If you have a gravel driveway or one that's full of cracks and bumps, re-paving is a great option. Our re-paving will provide you with a smooth, clean surface. Looking to add a new driveway? We can help with that too!
Sidewalks: A sidewalk can have a huge impact on the first impression your home makes, and we can help you design one that perfectly complements your house. Additionally, a new sidewalk will help eliminate the tripping hazards that old and uneven ones pose.
Patios: If you're looking for an outdoor space to entertain friends and family, a patio is the ideal choice. We can help you design and create a space that perfectly complements your yard and gives you a great way to enjoy the outdoors.
Pool decks: If you have a pool, you need the right design around it to complete the appearance. We design custom pool areas to fit your space and create a space everyone will want to use.
We can handle all types of design elements for your home, included stamped concrete, a variety of colors and patterns, and all types of stone materials.
Complete your home with a beautiful concrete feature
If you're interested in completing any concrete or stone feature projects for your home, call the experts at Georgia Pride Remodeling today. We can handle all types of concrete services, and we will give you a quality solution that will look great with your home. Call us today to get a free estimate in Alpharetta, Marietta, Atlanta, Cumming, Roswell, Woodstock, Acworth, Powder Springs, Kennesaw, Smyrna and throughout the surrounding areas!